Waiting for you is my first book published in 2002, a slim volume of short stories that I wrote as a teenager.  Unfortunately, today, 10 years later, I do not find the soft copy of the book to share with you all on the web page.
But my second attempt in writing was to translate this book to French. This book also is dated 2002 but after going through my old mail, I found a soft copy of the book. I should thank dearly Monsieur Frederic Anselme for the enormous support he gave to me while translating this book and by editing it.
J'espere que vous allez aimer les nouvelles, bonne lecture…..
Waiting for you, french version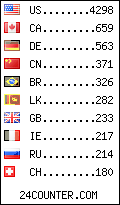 flag counter